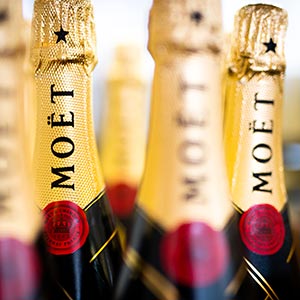 Living A Champagne Insta-Lifestyle on a Lemonade Budget
So, you want to live an Instagram-able champagne lifestyle but you're a student. You've got books to buy, rent to pay, bills, food… we get it.  It also doesn't help that on your downtime you scroll through social media to find a plethora of posts from your favourite influencers flaunting their latest designer purchase and fancy nights out in London #thatluxelife. What if we told you that you could have a slice of that luxe life only on a lemonade budget? Have we grabbed your attention? Read on for some of our top tips to help without smashing the bank.
BUY/SELL APPS
If you're a student with limited funds to buy new clothing every time a new season rolls around, then buy/sell apps are your new best friend. We're not saying that your whole wardrobe needs to be second hand; we all need to indulge in the new trends every once in a while! However rather than add to your already expanding wardrobe why not sell some of your older preloved items. One junk is another man's treasure, so they say, so get listing some of your old clothing on the likes of Depop, eBay and Mercari.
BUYING DESIGNER
You're trying to resist running up your overdraft but that new designer bag has been calling your name. It's in all the new magazines, latest YouTube hauls and Instagram. You know you really can't afford it full price but it's keeping you awake at night. Remember those buy/sell apps we were talking about above? Well guess what, all your favourite influencers use them to sell their old – ahem few months old – clothing and accessories. Hang tight and don't run up any debt. Good things come to those who wait and trust us it will be worth it in the long run. Start putting away some savings *hint* from all the clothing you've been selling on Depop and start following some of your favourite influencers on the apps. Trust us when the new season comes around, you'll get some fantastic bargains with huge discounts. You just have to be patient. Designer is designer whether it's last season or not.
EATING OUT
There are some nights when supernoodles followed by a night at the Student Union just won't cut it. You're longing for the perfect insta #foodflatlay and a glass of bubbles but don't want to sell your arm to do it. Fear not we have just the solution. Don your best outfit and get your dancing shoes ready because you're hitting the fanciest bar in town. Ok so we're not saying you should spend the whole night in there, but the menu isn't completely off limits to a student budget as you might first think. You don't need to order a starter, main, dessert and 5 bottles of champagne to enjoy some pretty surroundings and a catch up with your best guys/gals.  Instead order some starters to share at the bar and catch up over a glass of house wine, prosecco or beer before moving on to somewhere a bit more budget friendly to finish off the night.
INVEST IN A COFFEE MACHINE OR CAFFETIERE
Chances are if you're a student you'll be relying on your morning #caffeinefix but trust us, splashing out on a coffee every morning (or twice daily!) will quickly drain your budget. Instead invest in a coffee machine or even cheaper (and more insta worthy in our opinion) a caffetiere, which you can get for less than 20 quid. If you just need that morning cappuccino then a coffee machine is a much more cost-effective solution. You can get many great coffee machines for well under £100 which will save you loads in the longrun. You can also buy coffee pods from some of your favourite coffee shops which again works out a lot cheaper. Buy a cute reusable coffee cup and hey you're saving money; the environment and you're getting a few extra minutes in bed before that 9am class.
WORK AT FESTIVALS
Festivals are pretty expensive but when Coachella season rolls around it's difficult to refuse what's bound to be an amazing day/weekend listening to your favourite music and of course joining in on social media. FOMO is a real thing. Rather than jetting off to LA why not apply to work at one of your favourite music festivals a bit closer to home. These events are always hiring for bar staff and the best part? You get paid to go to the festival. Sure, you'll be working but you'll also get to be a part of the buzz and everyone gets a break, right? Get some of your besties to apply alongside you and even better take your breaks together!
CHECK ONLINE FOR THE BEST HOLIDAY DEALS
One of the great things about being a student is that you don't need to stick to term time for holidays. Have a few days free at the end of the week and fancy a long weekend? Make sure you check out Skyscanner who update their website daily for the best flight deals. Some of the best deals you'll see are city breaks so pack your bags, grab a friend and make sure you're ready to go when a good deal comes up! While we're on the subject of holidays, Airbnb is another great way to get some Insta worthy accommodation at a fraction of the price you would pay especially if travelling off-season.
USE YOUR STUDENT CARD TO YOUR ADVANTAGE
Everyone knows a student card gets you a lot of good discounts in your favourite shops and restaurants but did you know that you might also be able to gain free access to a lot of tourist attractions too? A lot of people travel the world and pay to visit these attractions which could quite literally be on your doorstep. So why not become a tourist for the day in your own city. Grab a group of friends and hit some of the local tourist attractions for a fun, free day out!
And that's some of our top tips for living a champagne lifestyle on a lemonade budget. Being a student doesn't mean you can't enjoy a little sip of that champagne life, non? But remember, always budget and be responsible with your hard-earned cash, and any loans.
https://cairn.verticaldev.org/wp-content/uploads/2019/05/NBH_VIP_Pop-up_Champagne_300px.jpg
300
300
craig.8ball
/wp-content/themes/enfold-child/assets/mainlogo.svg
craig.8ball
2019-05-20 10:49:34
2019-05-20 10:49:34
Living A Champagne Insta-Lifestyle on a Lemonade Budget